Company Profile
Acorn Cleaning was founded in 1979, by Brian and Linda Channer. In 2006 Karl Channer took over the business, and continue to provide the high standard of service regularly appreciated by the company's client basis.
Acorn Cleaning is a family run business whose high family values is reflected throughout the services we provide.
Director Karl is on hand at all times of the day and can always be contacted to discuss your requirements.
Our team of carefully trained staff understands the importance of assisting you in achieving a clean environment for your staff to work in; maintaining healthy and enjoyable surroundings to increase morale and optimize production.
We are committed to:
Thorough staff training
Consistent high standards of work
Regular supervision of operatives
Provision of services tailored to each clients individual needs
A strict health and safety policy
Maintaining our proud reputation for quality, service and value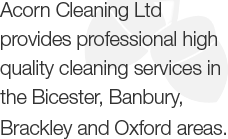 Get In Touch